Qx
Advanced Rasterizers for Hybrid IP/SDI, 4K/UHD, HDR/WCG Generation, Analysis & Monitoring
VIEW BROCHURE
LIVE DEMO
Rapid fault diagnostics, compliance monitoring and product development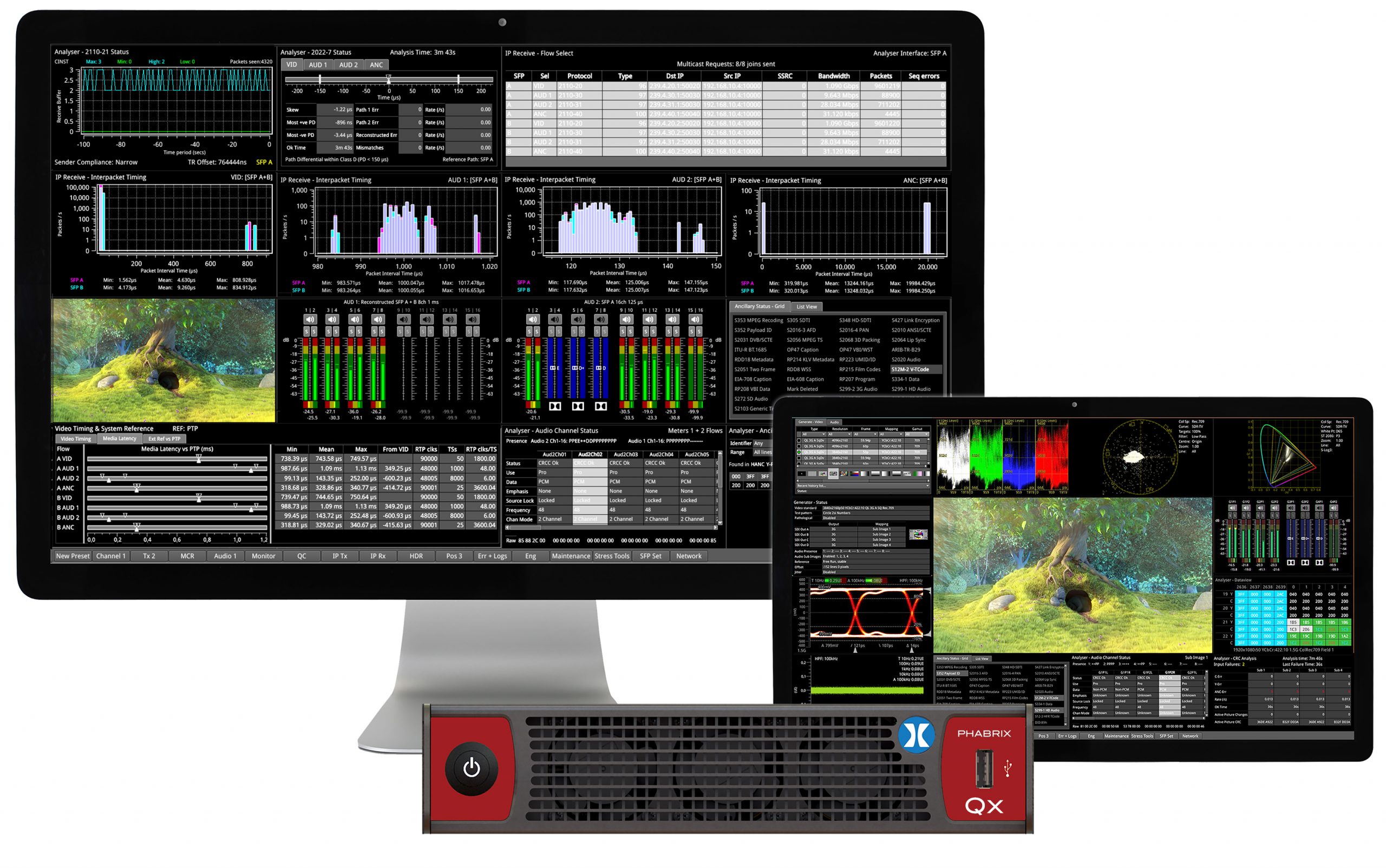 The Qx brings together all the advanced Test & Measurement tools required for transitioning to the next generation of video formats. Designed for HD/3G/6G/12-SDI and IP ST 2110/2022-7/2022-6 environments, the instrument set includes tools for rapid fault diagnosis, compliance monitoring and product development.
The Qx rasterizer offers SDI and IP toolsets as standard. Core media analysis tools for broadcast operator HD-SDI environments include picture view, waveform analyzer, vectorscope, 32 channel audio metering and ANC status. The core IP toolset supports payloads on native 10G SFP+ interfaces using generic IP SFPs, giving full access to be able to monitor and measure the IP traffic to SMPTE standards.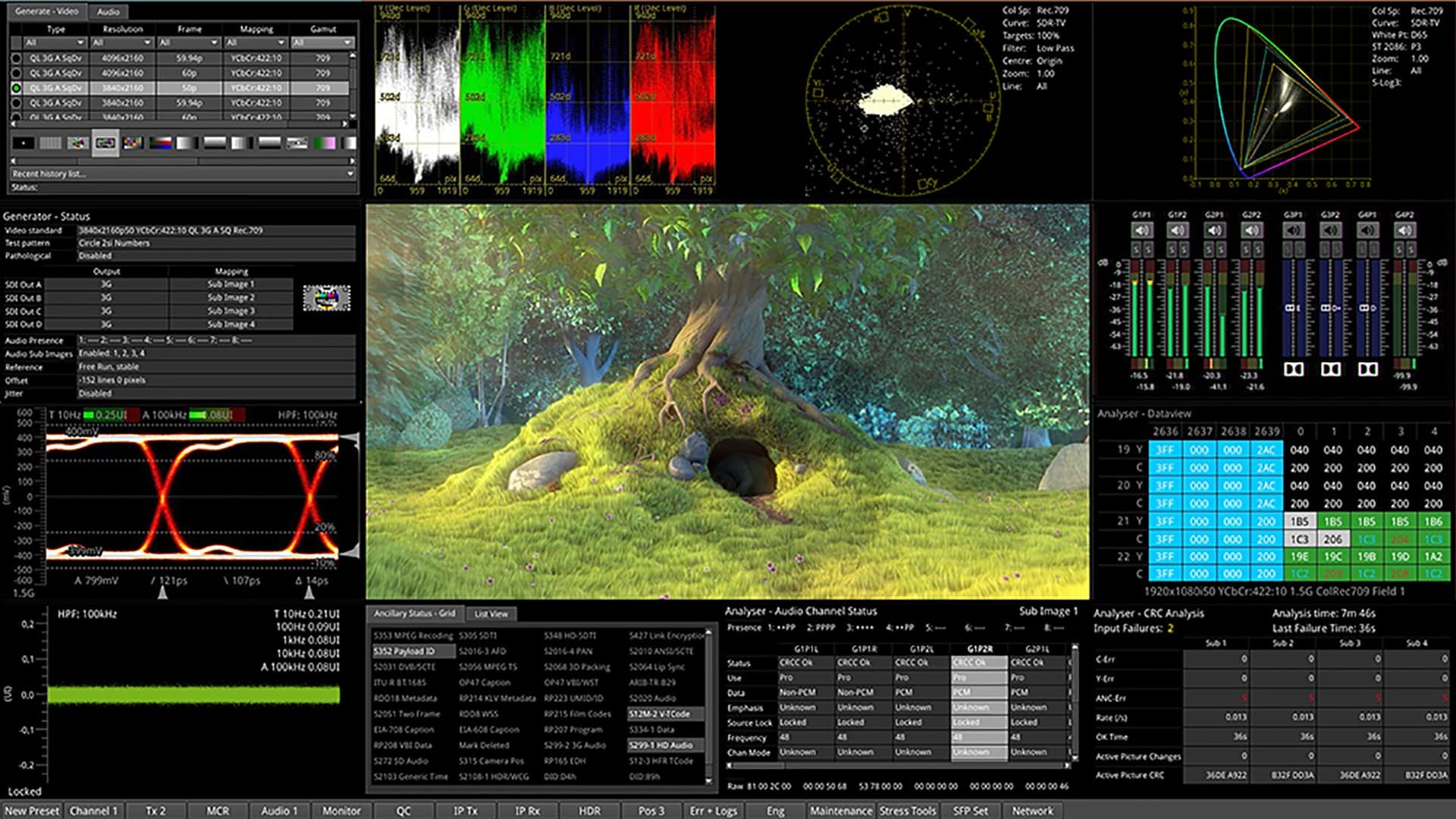 USER-DEFINED INSTRUMENT LAYOUT
Out of the box, the Qx offers media analysis for broadcast operator environments, with a flexible user-defined instrument layout displaying up to 16 simultaneous windows, and the ability to rapidly change between bespoke layouts for different operational tasks with user presets.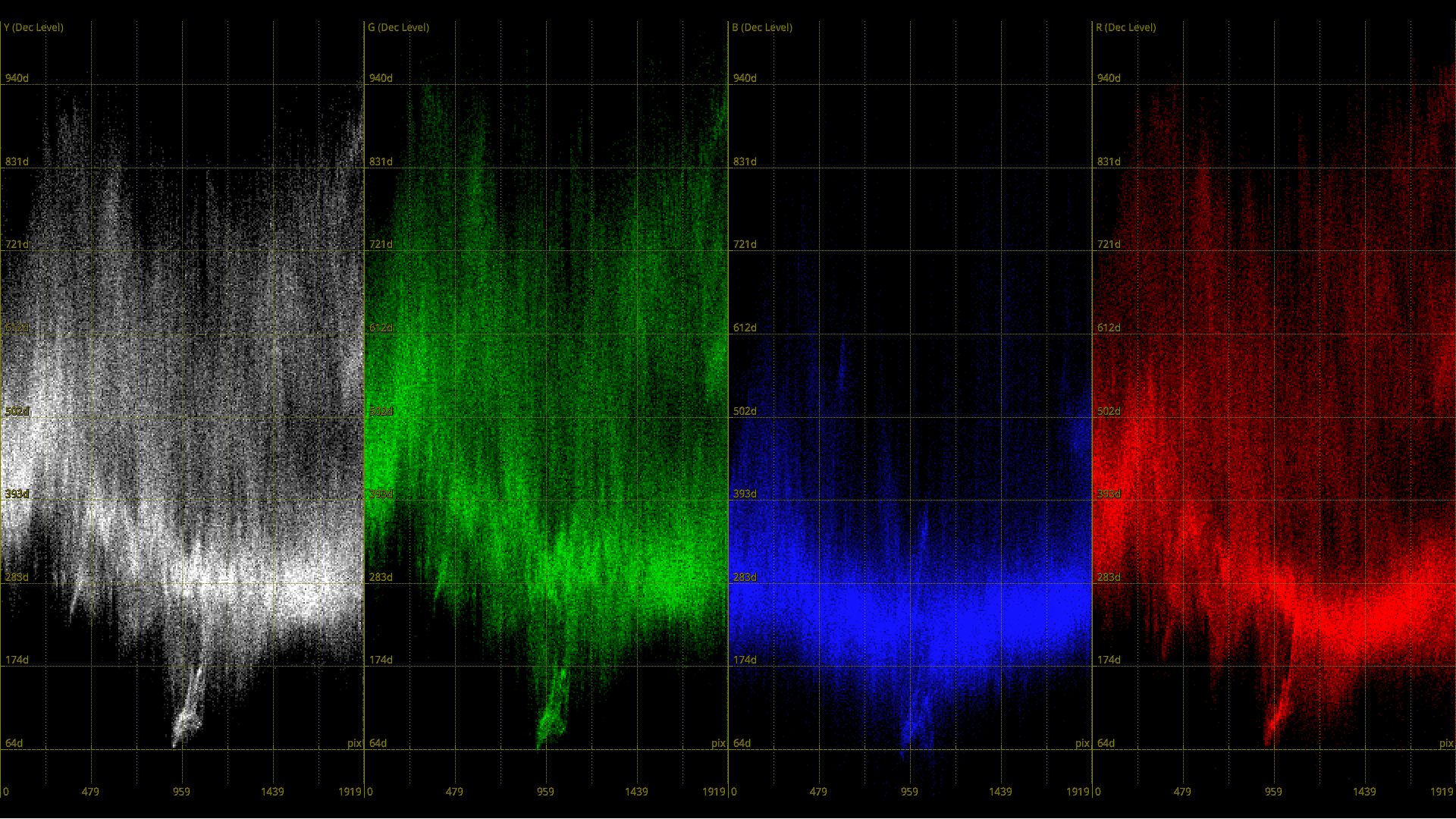 HD-SDI ANALYSIS AND MONITORING
Picture view, waveform, vectorscope, 32 channel audio metering, detection of Dolby formats, ANC status and payload, on screen display of OP47 and CEA-608 in 708 closed captions and Ancillary Time Code (ATC), and advanced control and logging are all provided as standard.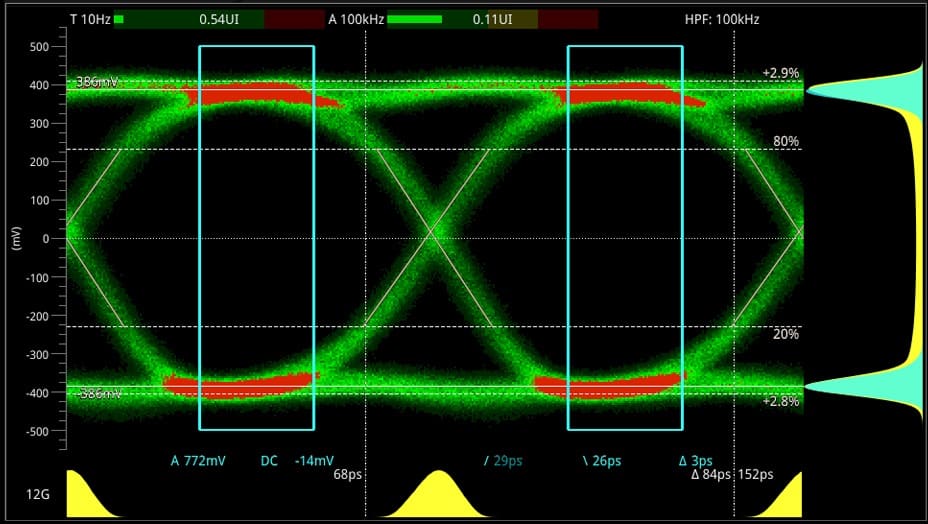 12G-SDI PHYSICAL LAYER & SDI-STRESS
The Qx offers a 12G/6G/3G/HD-SDI physical layer analysis option, including RTE™ (Real-Time Eye) technology to instantly highlight any SMPTE compliance issues including eye amplitude, transition times and overshoot. A suite of tools are available for users evaluating SDI interfaces.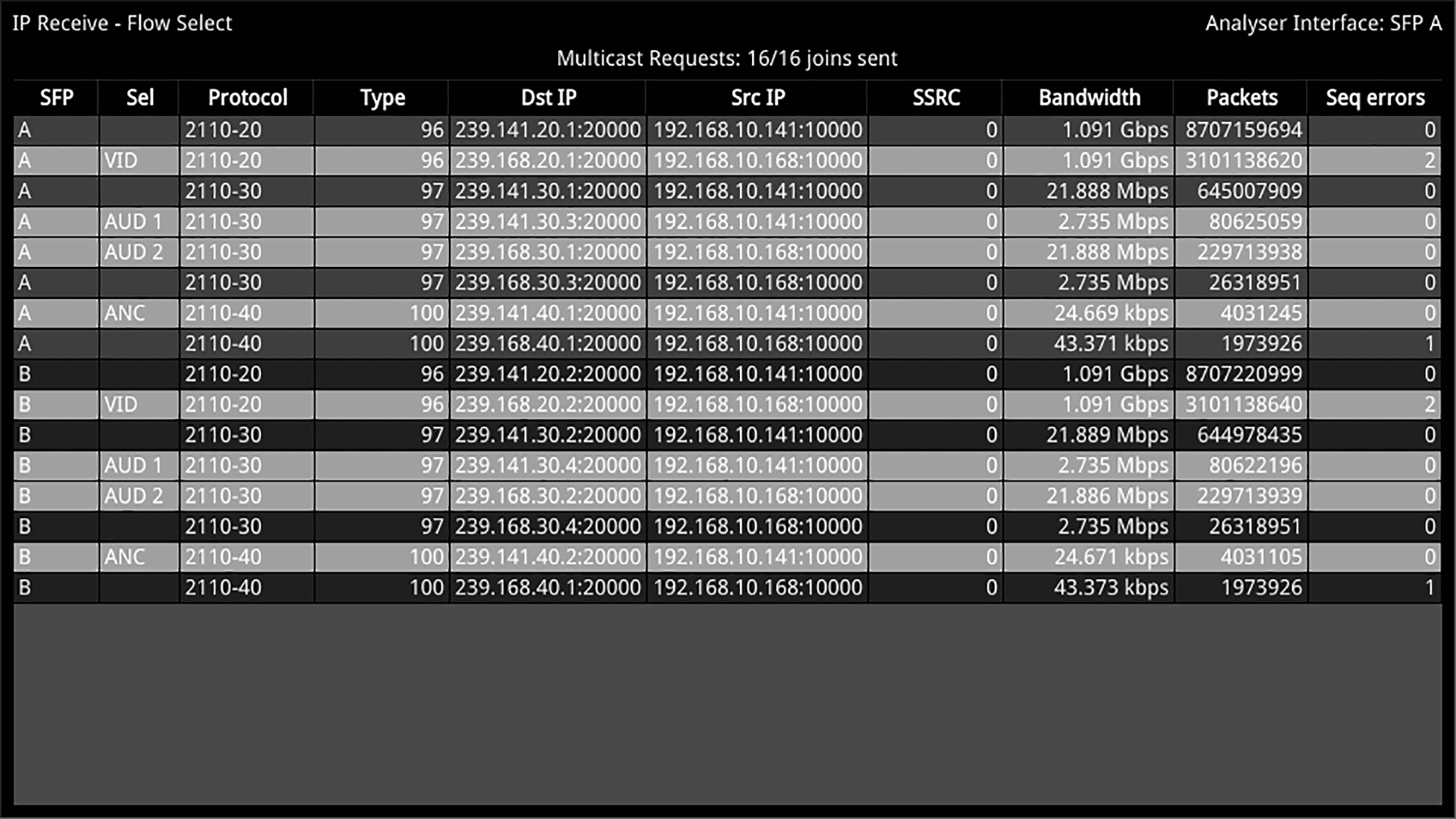 SUITE OF IP MONITORING TOOLS
The Qx's ST 2110 core IP toolset provides an operator with 2110 confidence status monitoring in an intuitive and accessible manner. The toolset supports simultaneous decap of 1 video, 2 audio and 1 ANC Data flow supported SMPTE protocols include ST 2059 (PTP), ST 2110-20, -30, -31 and -40. ST 2022-7 seamless protection (SIPS) is provided for all four flows over two media network interfaces using industry standard SFPs.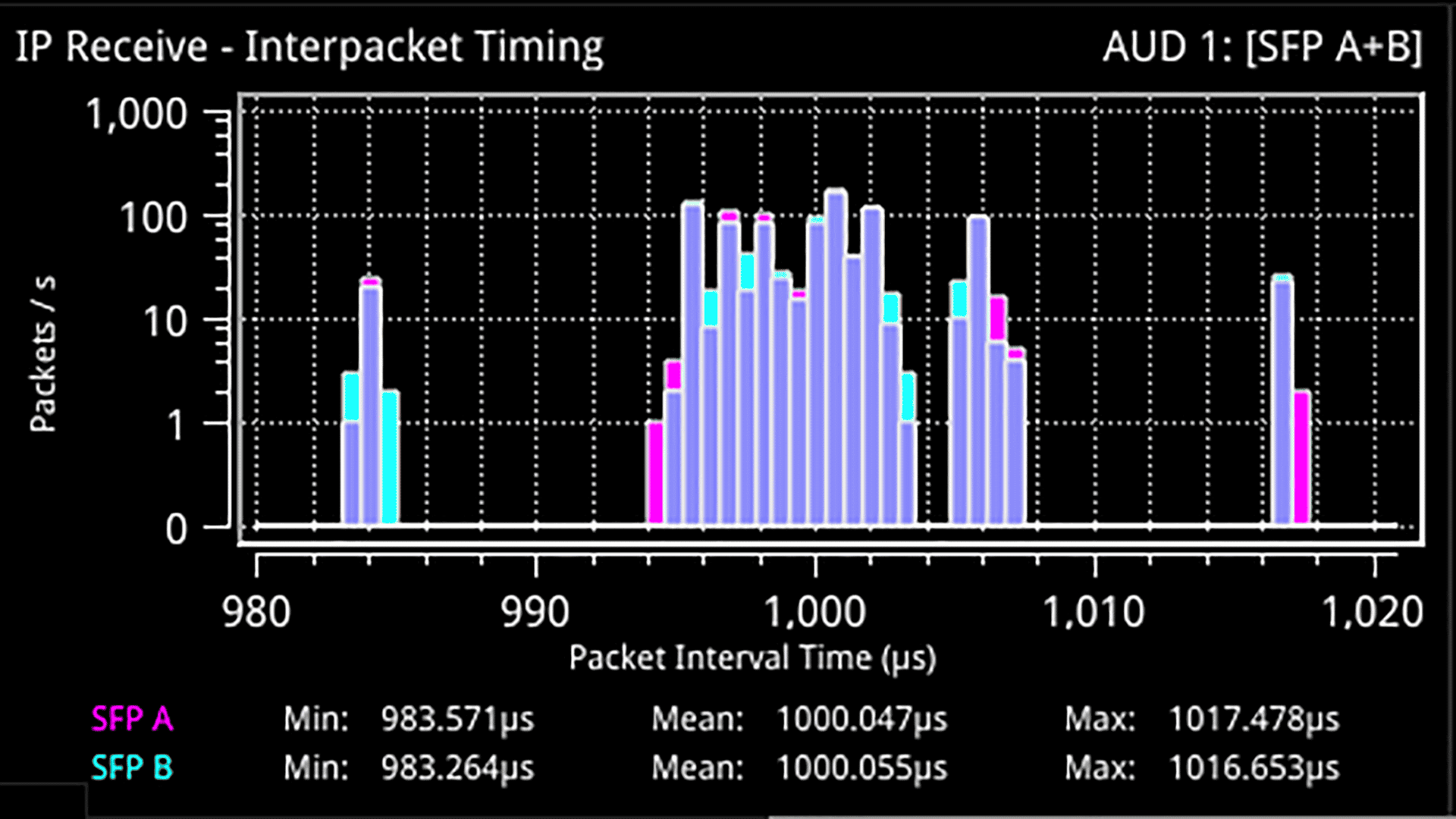 ST 2110 ANALYSIS FEATURE SET
Advanced Qx ST 2110 measurement tools include the provision of up to four simultaneous dual Packet Interval Timing measurement windows, detailed data reporting of flow packet, clock rates and PTP timing relationship, as well as IP Receive statistics that includes the measurements of the ST 2110-21 Network Compatibility model (Cinst) and Virtual Receiver Buffer Model (VRX).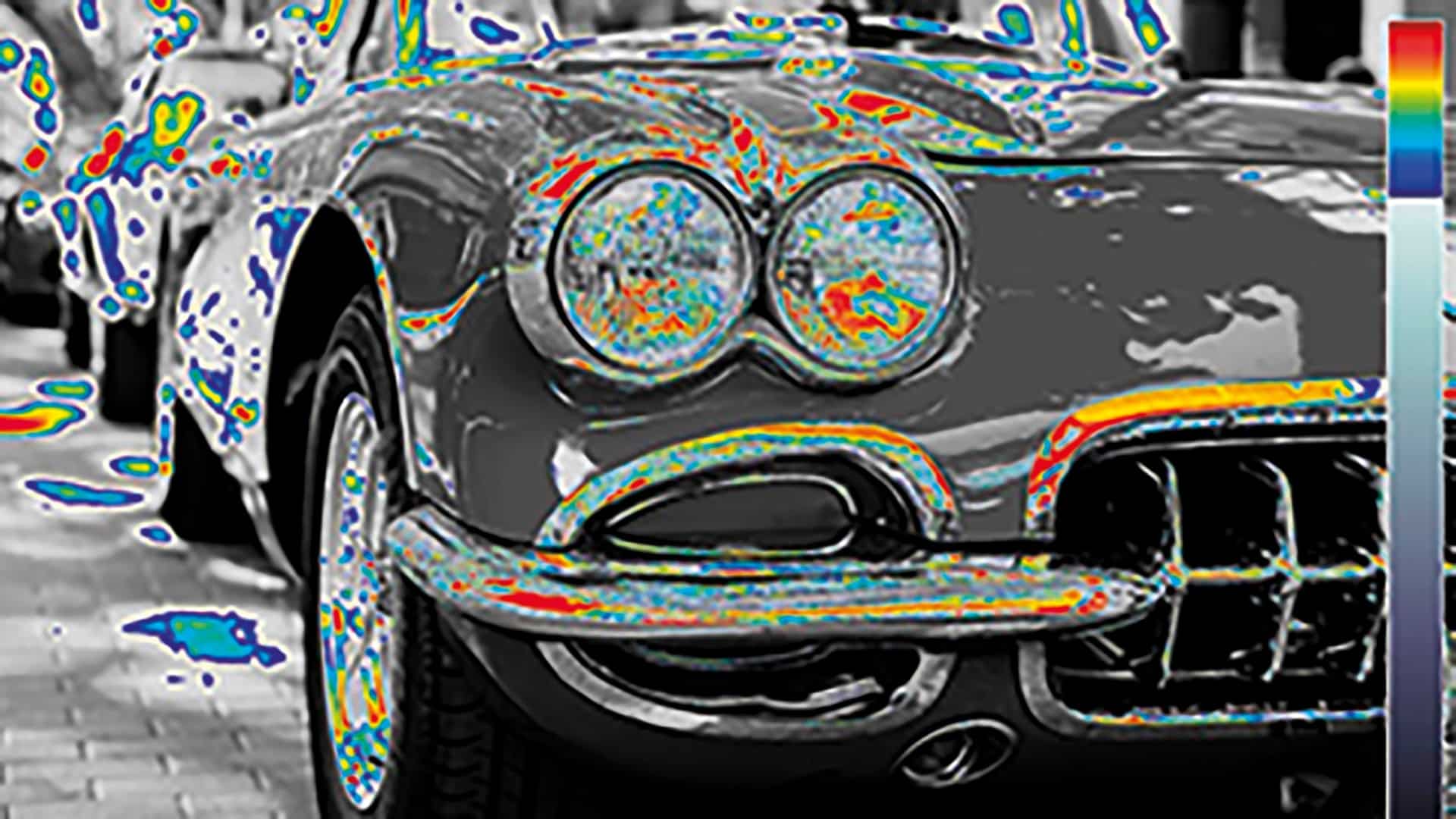 The Qx's advanced HDR toolset includes a signal generator, CIE chart, Luma false color heat map/highlighting, waveform monitor and vectorscope. All the main live production SDR/HDR formats are supported: SDR BT.709, BT.2020, plus HDR BT.2100 HLG, PQ and Sony S-Log3 and SR Live. An extensive set of test patterns include BT.2111 HDR color bars for HLG, PQ and SR Live as well as SDR 709 patterns.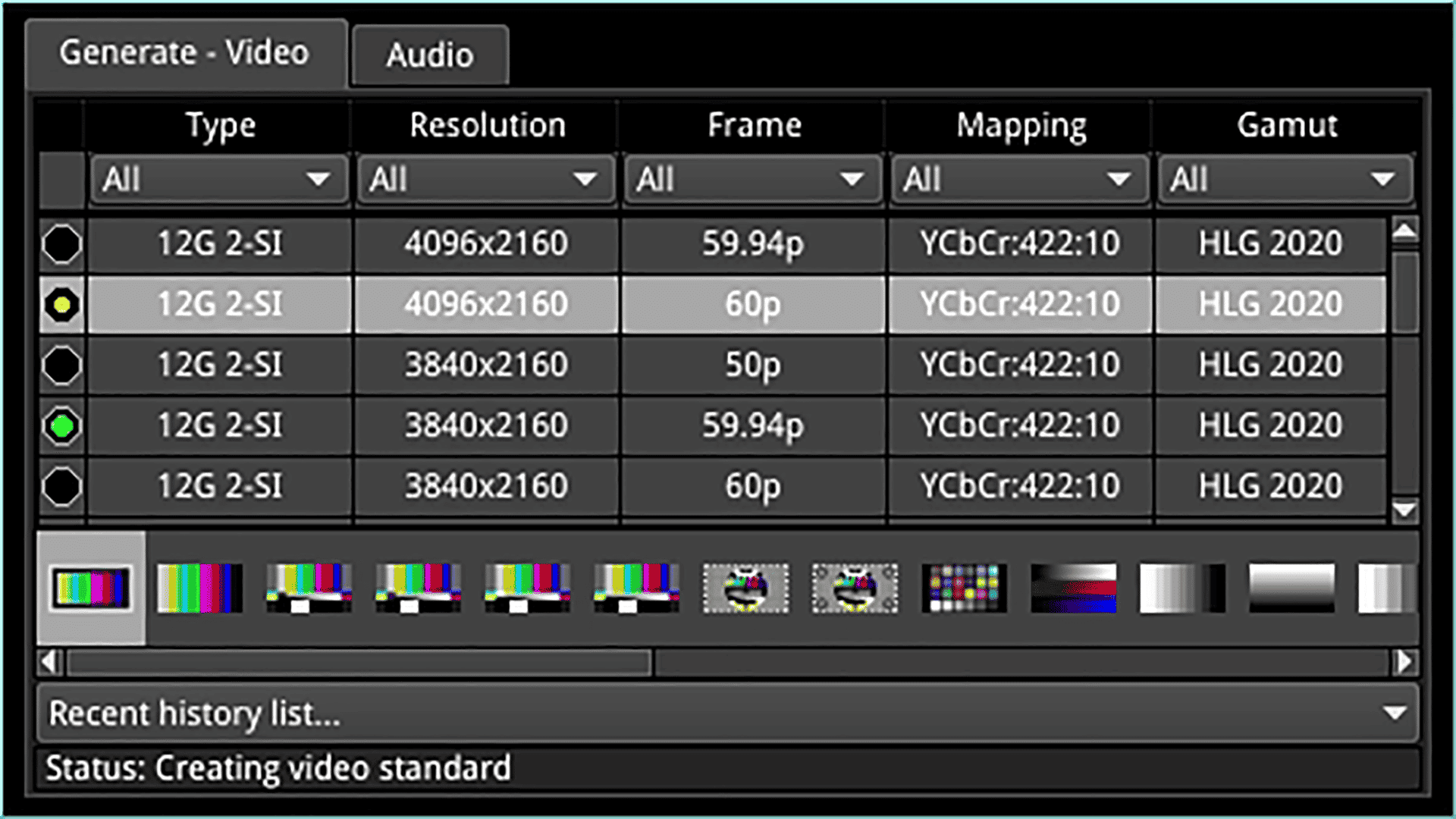 AUDIO AND VIDEO GENERATION

Generate and analyze a set of SDI/IP formats. Moving test patterns offer up to 32 channels of embedded audio per link or subfield (up to 128 channels on 12G interfaces). The toolset provides  core full screen SDI Pathological SDI stress patterns as well as allowing the user to define a combination of SDI stress and conventional generator patterns up to full frame.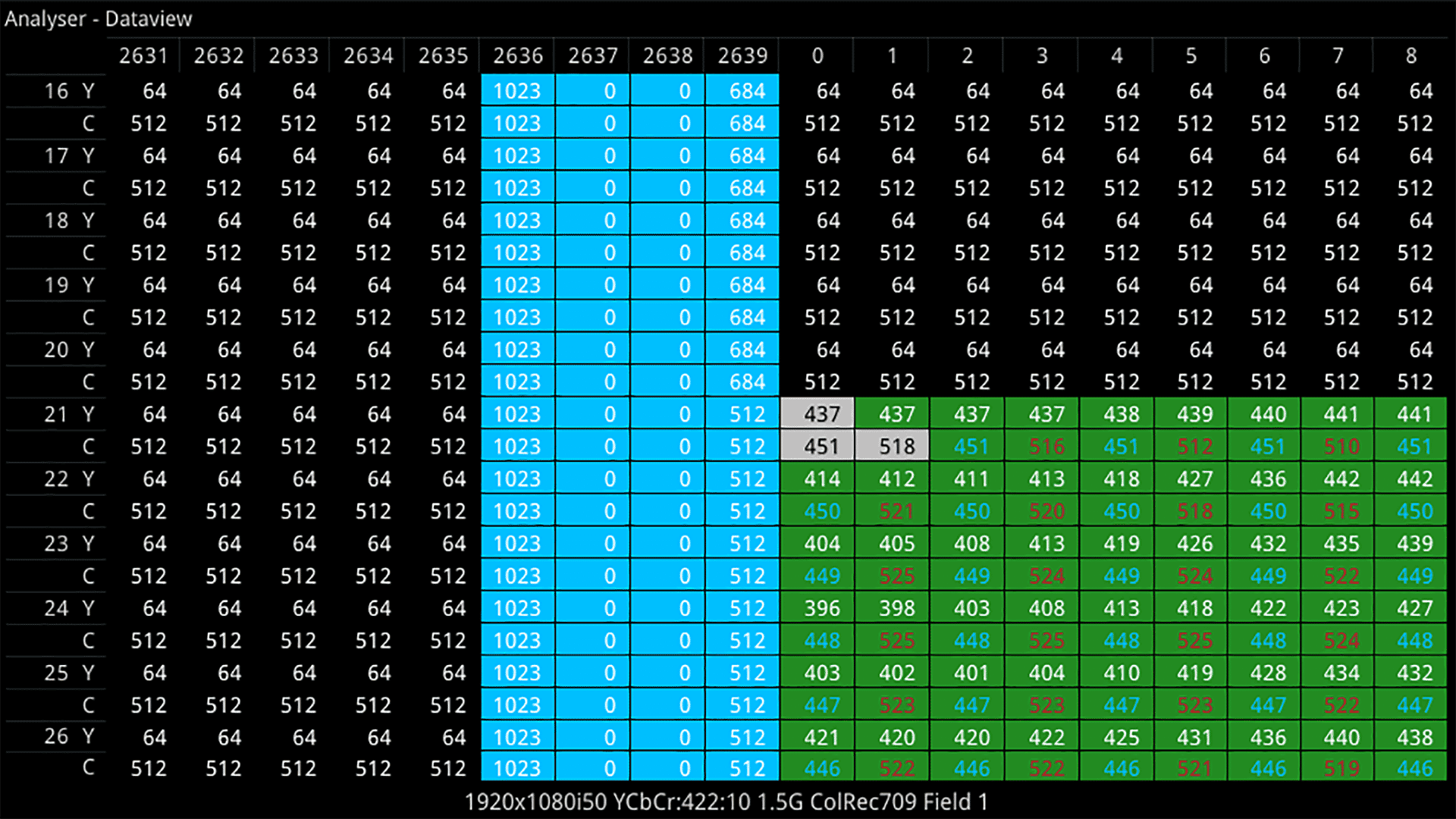 DATA VIEW AND ANC INSPECTOR
A sophisticated engineering grade analysis toolset provides easily accessible visualization of the data on an SDI interface and associated ANC packets. A deep SDI data inspection offers full freedom to inspect Active Picture, VANC and HANC. API controls to read back Active Picture Data under automation control are also included.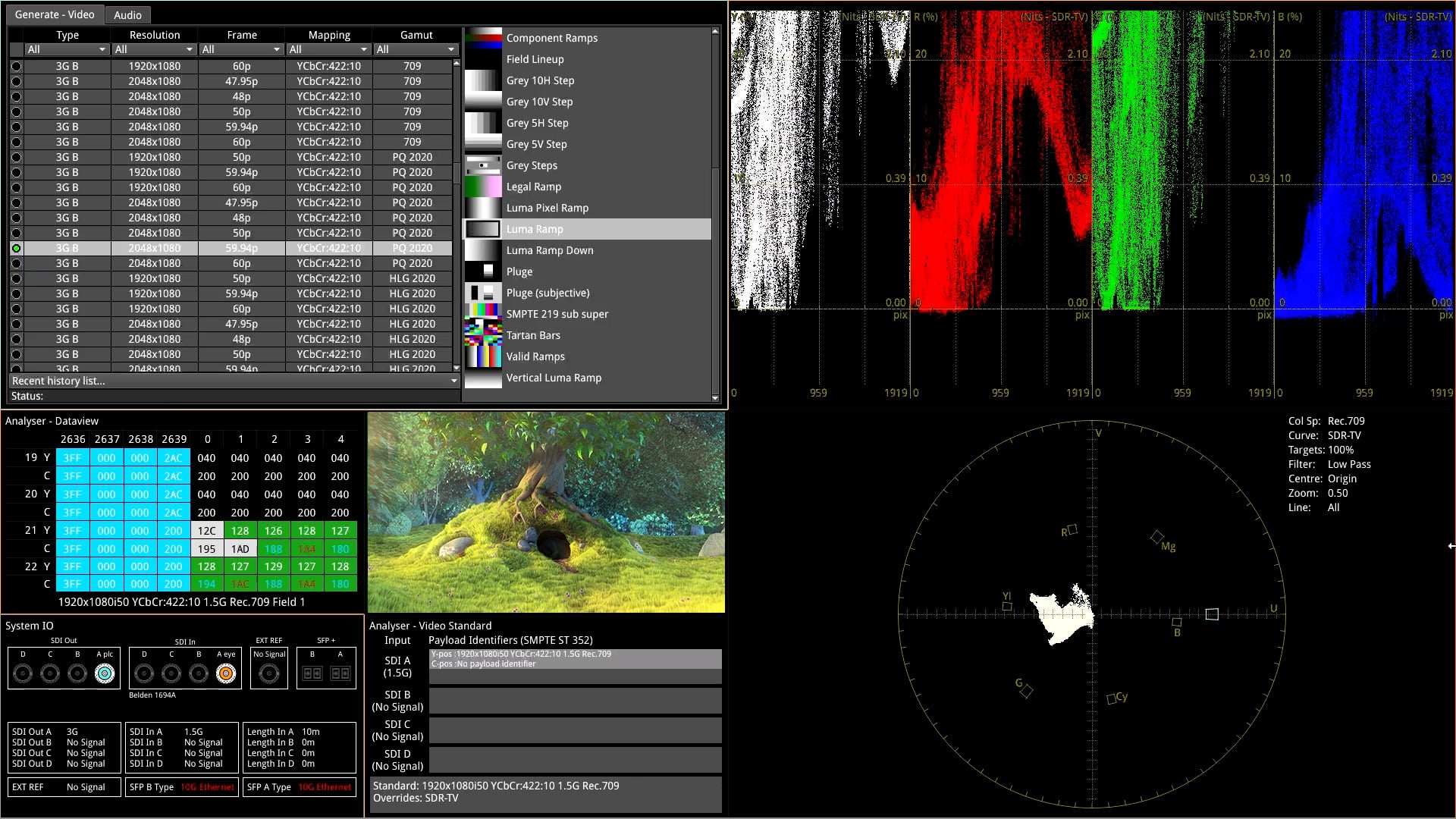 PRESETS, VNC and GUI SCREENSHOTS
The Qx interface employs VNC technology to deliver 16 simultaneous instrument windows over a remote network . Multiple display layouts can be saved as presets. This allows users to save bespoke layouts for different operational tasks; useful for rapidly changing between different screen layouts eg. Audio, HDR or IP focus.
In Action:
CTV Invests in PHABRIX Qx for new ST2110 OB Truck and IP Worflows
CTV, a leading provider of OB trucks and facilities, selected PHABRIX's Qx advanced rasterizer to provide future-proofed test and measurement for IP-based workflows, including the company's brand new OB12 32 camera truck which is currently being used on The European Golf Tour. CTV also invested in a Sx TAG handheld hybrid IP/SDI unit with ST2110 and ST2022 10GbE options for use with flypack systems.
Request a Live Demonstration
Speak to one of our experts, see our products in action…
I/O and Reference Configuration
ST 2110 and ST 2022-6 Monitoring
[Included as Standard]
12G-SDI Physical Layer Analysis
[Optional Toolset]
Audio and Video Generation
[Optional Toolset]
X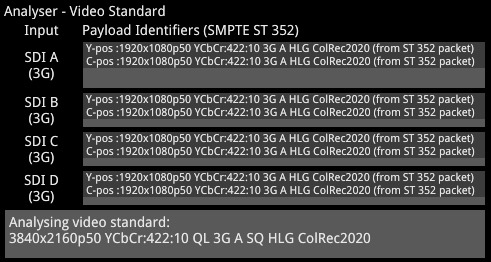 Analyzer - Video Standard
Display of detected SMPTE S352 Payload ID for each SDI Link and Subframe
Manual over-ride of S352 ID
Selection of SMPTE video format
Indication of S352 errors
Qx, QxL-01, QxL-01E Only
SDI-Stress Testing
[Optional Toolset]
IP Network Traffic Measurement 
[Optional Toolset]
X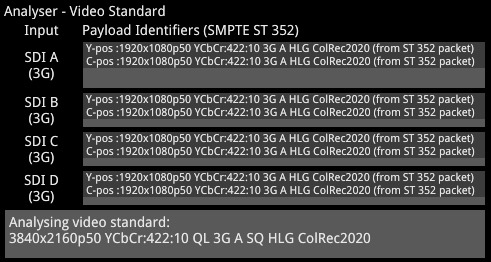 Analyzer - Video Standard
Display of detected SMPTE S352 Payload ID for each SDI Link and Subframe
Manual over-ride of S352 ID
Selection of SMPTE video format
Indication of S352 errors
Qx, QxL-01, QxL-01E Only
Packet Interval Profile Generator
[Optional Toolset]
High Dynamic Range (HDR) visualization & analysis
[Optional Toolset]
Data View Analyzer with ANC Inspector
Formats Supported
Qx 12G/10G
IP SMPTE 2110/2022-7
●
IP SMPTE 2022-6
●
3G/1.5G-SDI HD Formats
●
12G/6G/3G/1.5G-SDI UHD Formats
O
SDI Eye and Jitter Physical Layer Analysis
FO
Software Options Supported
Audio/Video Generator (SDI, ST 2022-6, ST 2110)
O
Eye and Jitter Toolset
O
UHD/4K Upgrade
SDI Option
SDI-STRESS Testing Toolset
O
Data View Analyzer with ANC Inspector
●
HDR/WCG Support
O
IP ST 2022-6 Decap, ST 2110-20/30/31/40 Decap with ST 2022-7 and PTP
●
IP Network Traffic Measurement Toolset (ST 2110)
O
IP Network Traffic Generation Tooslet (ST 2022-6)
O
Video Inputs/Outputs
4 x SDI inputs, HD/3G, 75 Ohm terminated BNC
●
2 x SFP+ MSA/NON-MSA cages (supports 12Gbps copper or fiber SDI interfaces)
●
4 x SDI outputs, HD/3G, 75 Ohm BNC
●
Support for 6G/12G SDI I/O
O
RTE™ Real-Time Eye input (12G/6G/3G/HD-SDI) x 1 (SDI input A) BNC
FO

Ethernet IP inputs/outputs (accepts generic SFPs)

2 x SFP+ 10G Cages (also supports MSA/NON-MSA 12Gbps copper or fiber SDI SFPs)
●
2 x SFP28 10/25G cages
–
Key:
● Standard
O Optional
FO Factory Option
| | |
| --- | --- |
| Audio Inputs/Outputs | Qx 12G/10G |
| 4 x 75 Ohm AES selectable I/O (26 pin high density 'D' Type socket) | ● |
| 1 x Stereo analog audio output (26 pin high density 'D' Type socket) | ● |
| 8 channel 48kHz PCM audio on HDMI and SDI Instrument output | ● |
| User Interface | |
| HDMI instrument output, 1920 x 1080, 4:4:4 RGB, Type A | HDMI 1.4 |
| SDI 3Gbit SDR/HDR instrument out, 1920 x 1080, 4:2:2 YCbCr | BNC |
| ST 2110-20 SDR/HDR, ST 2110-30 instrument out, 1920 x 1080, 4:2:2 YCbCr | – |
| Reference | |
| 2 x 75 Ohm BNC high impedance looping reference input, tri-level or B&B with cross lock | ● |
| 1 x 75 Ohm Micro-BNC terminating ref input, Tri/B&B with cross lock | – |
| Networking & Control | |
| 10/100/1000 BASE-T | ● |
| 8 x bi-directional GPI (26 pin high density 'D' Type socket) | ● |
| Monitoring | |
| Internal Beeper | ● |
| Form factor | |
| Size/Weight | 253 x 44 x 211 mm, 1.9kg |
| Electrical | |
| Power consumption | 50W typical, 70W max |
| 4 Pin XLR power connector | 12V nominal (10V-18V) |
| AC Power adapter | 90-264VAC, 120W |
| Warranty | |
| Warranty (1 year) | ● |
| Extended Warranty (3 – 5 years) | O |
Qx Chassis (includes PHQXO-SDI-STND)
PHQX01-3G
Qx 1U ½ rack HD/2K SDI Rasterizer – Analyzer HD/3G-SDI/10GbE (includes PHQXO-IP-STND, PHQXO-DATA)
PHQX01E-3G
Qx 1U ½ rack HD/2K SDI Rasterizer with Eye & Jitter – Analyzer HD/3G-SDI/10GbE (includes PHQXO-IP-STND, PHQXO-DATA)
PHQXM-01E
Qx 01E Eye mezzanine upgrade (PHQX01-3G or PHQX01-12G chassis – Return to factory upgrade)
PHQX2QXL
Requires PHQXO-IP-STND. Qx to QxL upgrade includes PHQXO-IP-25G license. Note: 25G Ethernet SFP28 modules are not included. (Availble until Dec 2021)
Qx SDI Software Options
PHQXO-UHD
UHD/4K upgrade for PHQX01-3G or PHQX01E-3G
PHQXO-SDI-STRESS
Advanced SDI Stress Testing Toolset (requires PHQX01E-12G and PHQXO-GEN)
PHSFP-RT12-1310
SFP+ optical SDI transceiver – 12G/6G/3G/HD-SDI
Single mode LC (10km), Non-MSA, Tx 1310nm, Rx 1260-1620nm
Qx SDI/IP Software Options
PHQXO-DOLBY
Dolby E Decoder plus Metadata Analyser – SDI/AES/2110/2022-6 sources, includes LtRt and LoRo downmix engine (Availble July 2021)
PHQXO-GEN
Audio/Video Generator (SDI, ST 2022-6)
PHQXO-HDR
HDR/WCG support, CIE 1931 chart, HDR Heatmap
Qx IP Options
PHQXO-IP-STND
IP license for ST 2022-6, ST 2110 Decap with ST 2022-7 and PTP ((Requires Ethernet module (PHSFP-10GE-SR or PHSFP-10GE-LR)) – Included in new Qx purchases
PHQXO-IP-MEAS
IP Network Traffic Measurement Toolset (Requires PHQXO-IP-STND)
PHQXO-IP-NGT
ST 2022-6 Packet Interval Profile Generator (Requires PHQXO-IP-STND, PHQXO-GEN)
PHSFP-10GE-SR
10GBASE-SR Ethernet short range SFP+ 850nm, 300m, multi-mode transceiver
PHSFP-10GE-LR
10GBASE-LR Ethernet long range SFP+ 1310nm, 10km, single mode transceiver
Qx Fitting Kits
PHQXC-1
12G-SDI Test Cable 1m
PHQXK1
Qx 19" rack mount kit (1x Qx chassis)
PHQXK2
Qx 19" rack mount kit (2x Qx chassis)
PHQXK3
Qx Mounting kit – 9.5" rack (1x Qx chassis)
Qx Extended Warranty
PHQX-3YEAR
3 Year Warranty*
PHQX-5YEAR
5 Year Warranty*
* One year warranty included as standard