Extensive Video and Audio Toolset

The SxA offers advanced signal generation, analysis and monitoring capabilities. There's support for SMPTE compliance testing with over 350 different formats. An extensive array of video and audio tools includes a signal generator with moving test patterns, a high performance waveform, and ANC/VANC inspector. The SxA also offers 16 channel audio generation and metering with support for Dolby® E, Dolby® Digital and Dolby® Digital metadata and bitstream analysis.
The SxA also now offers automatic link detection of single links of multi-link 3G and HD based UHD formats.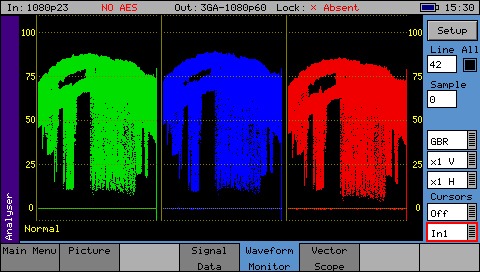 With simultaneous signal generation and analysis, its built-in core toolset includes a multi-format waveform, vectorscope and video display, plus data view and VANC/ANC inspector. Over 350 formats are supported for compliance monitoring. Signal generation offers 32 test patterns, including pathological.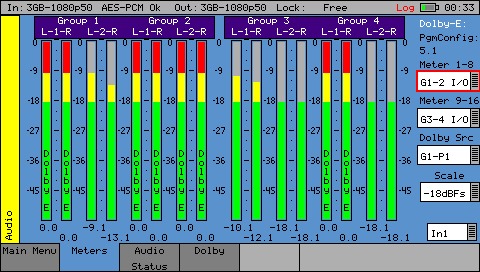 MULTI-CHANNEL AUDIO ANALYSIS
The SxA features support for 16-channel audio metering and bitstream generation and analysis of Dolby E, Dolby Digital and Dolby Digital Plus. Embed a single external 48kHz synchronous AES stream into the generated video stream, as well as extract embedded audio and export it via the AES output.
AV DELAY GENERATION AND ANALYSIS
AV Delay Generation and Analysis offers an end-to-end solution for the measurement of Audio to Video differential delay through a broadcast system. The tool  provides a realtime update of the differential delay between the video content and the selected audio channel pair to measure the propagation (latency) or pipeline delay.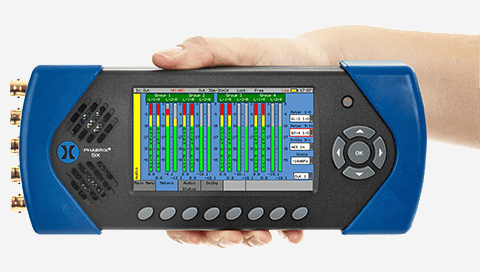 ULTRA PORTABLE, RUGGED DESIGN
The SxA offers great mobility with a lightweight aluminium case with integral, high quality screen for instrument display and video monitoring. The generator/ analyzer operates via rechargeable battery for up 2 hours, and can also be powered by the mains to offer flexible operation.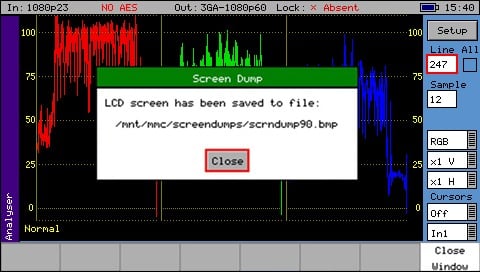 The SxA features a TCP/IP interface for remote control, automated testing, engineering support and fault analysis. Comprehensive status logging with custom reports, together with instrument picture capture to simplify fault finding is also included.
X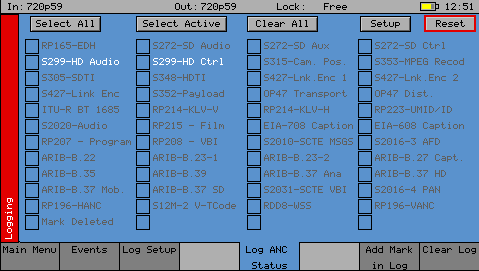 ANC Log Setup
The Log ANC Status menu allows customization of which ANC packets to log for changes in status (e.g. Present, Checksum Error, Missing, Parity Error)
Logging of Dolby and AES Status as well as device system errors
Control of logging duration
Get a live demo of our products
See our products in action and find out how they can work for your organisation
Let's get your product demo booked...
Let us know the products you're interested in and what day would work best for you and we'll be in touch to set up a demo with one of our experts at a time that suits you.
Monitor Details
Display resolution
480 x 272 pixels auto scaling
Display type
16:9 24 bit color TFT
Display size
95 x 54 mm
Processing
All digital
Video
SDI
3G-SDI, HD-SDI SD-SDI
Outputs/Inputs
1 x 75 Ohm BNC
Genlock
Bi/Tri/SDI with cross lock
Adjustable timing
0 to 1 Frame
Text Ident
Yes with font, color and point size
Logo ident
Yes
EDH
Yes (SD-SDI)
Video Test Signal
Resolution
10 bits
Static Test patterns
32+ including full frame
Moving Zone Plate
Yes
User defined
DPX,YUV,TGA,BM
Formats
To be supplied on request
Eye bit rates
3Gbps, 1.485Gbps, 270 Mbps
Jitter
SMPTE specification filters
Jitter thermometers
Alignment, Timing
Audio
Internal speaker
0.5 watts
Audio DAC
24 bit stereo
Headphone socket
3.5 mm with auto line out
Generator/Monitor
48 kHz 20-bit (SD-SDI) 24-bit (HD-SDI)
16 channel embedded audio
Yes
AES Output/Input
1 x 75 Ohm BNC
Audio Test Signal
Fixed tones
17
Variable tones
1 Hz-24 Khz in 1Hz steps
Intermittent Tone
Yes
White noise generation
Yes
Audio levels variable
0 to -100dB in 1dB steps
Audio phase invert
Yes
General
Navigation panel
5 menu keys 8 custom select/program
Integral battery supply
Yes
Internal Storage
8GB (upgradable)
Remote control
Web browser interface
Ethernet/USB
Yes
Carry case
Included
AC power supply
Included
Security
Kensington lock fitting
Size/Weight
0.7kgs, H:92mm W:225mm D:42mm
SxA

PHSXAES

SxA Handheld Instrument – SD/HD/3G Handheld complete unit
Software Options

AV Delay Analysis – Analyser supports EBU and LAWO AV delay sequences 

PHSXOS

* Command Scripts + Reports – Repeat testing + create print report

* SDI Data display + VANC/ANC Inspector – Detailed SDI data display

* Enhanced Remote Control – TCP/IP sockets based remote control

* Zone plate generator – Programmable zone plate generator

* Advanced video formats + 2K – 422/444, YUV/RGB, 10/12 bit, SMPTE 428-9 D-Cinema/SMPTE ST 2048-2:2011

* Dolby E/D/D+ analysis + generation – Dolby streaming, metering, timing

Engineering bundle (*) – PHSXOS,PHSXOSD,PHSXOR,PHSXOZ,PHSXOF,PHSXO-DAG (price includes 40% discount)

Ancillary Status grid display – HANC/VANC indicator only (included free with new purchases)
Accessories
PHSXWM
Sx Wall mounting bracket for easy charging (does not include the charger)
Extended Warranty
PHSXA-3YEAR
SxA Upgrade from 1 to 3 Year Warranty

PHSXA-5YEAR

SxA Upgrade from 1 to 5 Year Warranty
*One year warranty included as standard
Please fill out the form below to
request either a Quote or Product Demo