Advanced, Hybrid IP/SDI Toolset

Sx TAG with its SFP, SDI and analog I/O offers incredible versatility in a handheld device. It is ideal for IP, 3G/HD/SD-SDI, optical SDI, HDMI and Analog test & measurement as well as AES eye analysis, for applications demanding true mobility and ease of use.
It provides support for SMPTE ST 2110-20/30/40 encapsulation/decapsulation with ST 2059 PTP, SDP and NMOS as well as SMPTE ST 2022-6 encapsulation/ decapsulation, using 10GE IP SFP+ modules developed by Embrionix.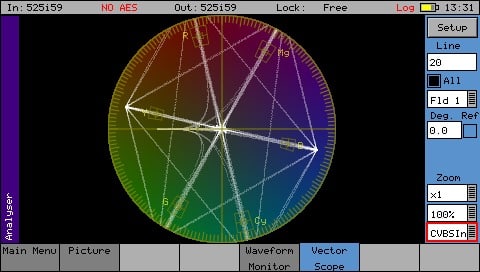 With simultaneous signal generation and analysis, its built-in core toolset includes a multi-format waveform, vectorscope and video display, plus data view and VANC/ANC inspector. Over 350 formats are supported for compliance monitoring. Signal generation offers 32 test patterns, including pathological.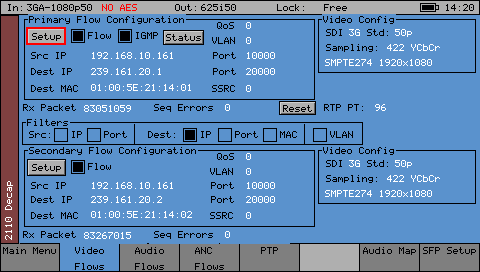 The Sx TAG'S versatile SFP handles 3G/HD/SD-SDI, optical SDI, IP, HDMI and analog composite formats. Comprehensive support is provided for modern broadcast IP systems with encap/decap of ST 2110-20/30/31/40 with IP to SDI gateway, ST 2059 PTP, AMWA NMOS IS-04/IS-05, as well as ST 2022-6.
AV DELAY GENERATION AND ANALYSIS

AV Delay Generation and Analysis offers an end-to-end solution for the measurement of Audio to Video differential delay through a broadcast system. The tool provides a realtime update of the differential delay between the video content and the selected audio channel pair to measure the propagation (latency) or pipeline delay.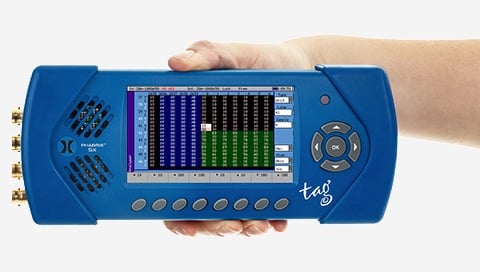 ULTRA PORTABLE, RUGGED DESIGN

The Sx TAG offers great mobility with a lightweight, rugged aluminium case with integral, high quality screen for instrument display and video monitoring. The generator/ analyzer operates via rechargeable lithium battery for up 2 hours, and can also be powered by the mains to offer flexible operation around facilities.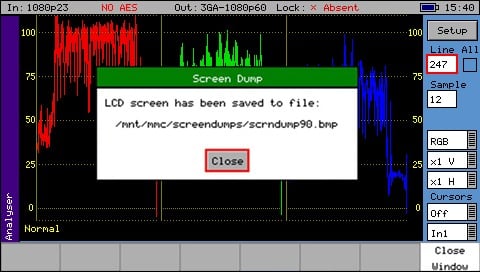 The Sx TAG features a TCP/IP interface for remote control, automated testing, engineering support and fault analysis. Comprehensive status logging with custom reports, together with instrument picture capture to simplify fault finding is also included.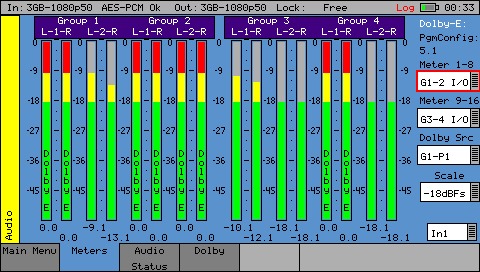 MULTI-CHANNEL AUDIO ANALYSIS

The Sx TAG features support for 16-channel audio metering and bitstream generation and analysis of Dolby E, Dolby Digital and Dolby Digital Plus. Embed a single external 48kHz synchronous AES stream into the generated video stream, as well as extract embedded audio and export it via the AES output.
In Action:
CTV Invests in PHABRIX Sx TAG for new ST2110 OB Truck and IP Workflows
CTV, a leading provider of OB trucks and facilities, selected PHABRIX's Sx TAG handheld hybrid IP/SDI unit to provide future-proofed test and measurement for IP-based workflows, including the company's brand new fly pack systems.
Sx TAG 2110/2022-6
Optional Toolset
Order Code: PHSXO-IP
X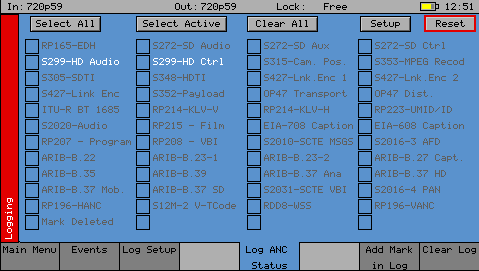 ANC Log Setup
The Log ANC Status menu allows customization of which ANC packets to log for changes in status (e.g. Present, Checksum Error, Missing, Parity Error)
Logging of Dolby and AES Status as well as device system errors
Control of logging duration
Get a live demo of our products
See our products in action and find out how they can work for your organisation
Let's get your product demo booked...
Let us know the products you're interested in and what day would work best for you and we'll be in touch to set up a demo with one of our experts at a time that suits you.
Monitor Details
Display Resolution
480 x 272 pixels auto scaling
Display Type
16:9 24 bit color TFT
Display Size
95 x 54mm
Processing
All digital
SDI Video Input/Output
SDI Format
SD-SDI, HD-SDI (3G-SDI Option)
SDI Input/Output
1 x 75 Ohm BNC
EDH
Yes (SD-SDI)
Reference Input/Output
Genlock
Bi/Tri/SDI with cross lock
Ref Generator
Bi-level PAL/NTSC +/- 5ppm
Generator Timing
0 to 1 Frame WRT reference source

Composite Video Input/Output

Composite formats
PAL/NTSC
Composite Input/Output
1 x 75 Ohm BNC
SFP Input/Output
Optical/Copper/HDMI -Tx/Rx (Optional)
IP SMPTE 2110 & 2022-6 Tx/Rx (Optional)
| | |
| --- | --- |
| Audio | |
| Internal Speaker | 0.5 watts |
| Audio DAC | 24 bit stereo |
| Headphone socket | 3.5mm with audio line out |
| Generator/Monitor | 48kHz 20-bit (SD-SDI) 24-bit (HD-SDI) |
| Metering | 16 channel PPM with phase indication |
| AES Output/Input | 75 Ohm AES Pair via 15-way D-type |
| Analog Output/Input | Balanced stereo pair via 15-way D-type |
| General | |
| Navigation panel | 5 menu keys, 8 custom select |
| Integral battery supply | 1-2 hours lithium polymer |
| Internal storage | 8GB |
| Remote Control | Web browser interface |
| Ethernet | Web server, remote control (TCP/IP sockets) |
| Carry case | Included |
| AC power supplier | Included (universal) |
| Security | Kensington lock fitting |
| Weight/Size | 900g, H:92mm, W:225mm, D:42mm |
Sx TAG
PHSXTAGC
TAG Analyser/Generator/Monitor – SD/HD Handheld (Includes PHSXM-CAGEP and PHSXO-GEN)
PHSXTAGC-IP
TAG Analyser/Generator/Monitor + IP – PHSXTAGC + PHSXO-IP + PHSFP-10SR-IP (multi-mode only)
PHSXTAGC2IP
TAGC to TAGC-IP upgrade – Return to factory upgrade (up to and inc. serial no: 006381) includes PHSXO-IP, PHSXM-CAGEP & PHSFP-10SR-IP (multi-mode only)
Options
PHSXO-GEN
Multi-format Signal Generator – Upgrades PHSXTAG to PHSXTAGC

(included free with new purchases)

PHSXO-AVD
AV Delay Analysis – Analyser supports EBU and LAWO AV delay sequences (option for PHSXTAGC or PHSXTAGC-IP
PHSXO-3GADV
* 3G, Advanced video formats + 2K – 3G-SDI, 422/444, YUV/RGB, 10/12 bit, SMPTE 428-9 D-Cinema/SMPTE ST 2048-2:201
PHSXOS
* Command Scripts + Reports – Repeat testing + create print report
PHSXOSD
* SDI Data display + VANC/ANC Inspector – Detailed SDI data display
PHSXOR
* Enhanced Remote Control – TCP/IP sockets based remote control
PHSXOZ
* Zone plate generator – Programmable zone plate generator
PHSXO-DAG
* Dolby E/D/D+ analysis + generation – Dolby streaming, metering, timing
PHSXO-ENGT
Engineering bundle (*) – PHSXO-3GADV,PHSXOS,PHSXOSD,PHSXOR,PHSXOZ,PHSXO-DAG (price includes 40% discount)
PHSXOVNC
Ancillary Status grid display – HANC/VANC indicator only (included free with new purchases)
PHSXO-EDID
HDMI EDID viewer – Software license for HDMI EDID viewer (requires PHSFP-HDMI-OUT)
PHSXO-IP
IP Encap/Decap license – Software license for 10GE IP ST 2022-6, ST 2110, NMOS IS-04/05/08 (requires PHSFP-10SR-IP)
SFPs

PHSFP-RT30-1310

SFP optical transceiver 3G/HD/SD – Medium haul, Non-MSA, Tx 1310nm, Rx 1260-1620nm (requires GEN option for Tx)

PHSFP-RT30-1550

SFP optical transceiver 3G/HD/SD – 50km, Non-MSA, Tx 1550nm, Rx 1260-1620nm (requires GEN option for Tx)

PHSFP-RT30-HDBNC

SFP electrical transceiver 3G/HD/SD – HDBNC, Non-MSA, includes 2x HDBNC – BNC cables (requires GEN option for Tx)

PHSFP-HDMI-IN

SFP HDMI-SDI Input convertor – HDMI v1.4 / DVI 1.0 providing HDMI view (requires PHSXO-3GADV for 3G payloads)

PHSFP-HDMI-OUT

SFP SDI-HDMI Output convertor – HDMI v1.4 / DVI 1.0 for HDMI signal generation (requires GEN option, PHSXO-3GADV for 3G payloads)

PHSFP-10SR-IP

10GBASE-SR SMPTE 2110, 2022-6, NMOS – Multi-mode, Encap/Decap (requires IP and GEN options, PHSXO-3GADV for 3G payloads). (Supports ST 2110 and ST 2022-6)
Accessories
PHSXM-CAGEP
Universal SFP cage with power down – Universal replacement SFP cage – MSA/Non-MSA compliant

PHSXC-1

Audio cable – D15 break out cable for AES, Analogue audio and GPI
Sx wall bracket – Sx wall mounting bracket for easy charging (Does not include the charger)
Extended Warranty

PHSXT-3YEAR

Sx TAG Upgrade from 1 to 3 Year Warranty (excludes SFP modules)

PHSXT-5YEAR

Sx TAG Upgrade from 1 to 5 Year Warranty (excludes SFP modules)

*One year warranty included as standard
Please fill out the form below to
request either a Quote or Product Demo