Rx Series
Advanced Rasterizers for 2K/3G/HD/SD Signal Generation, Analysis & Monitoring
VIEW BROCHURE
LIVE DEMO
Faster fault diagnosis, ultra-flexible monitoring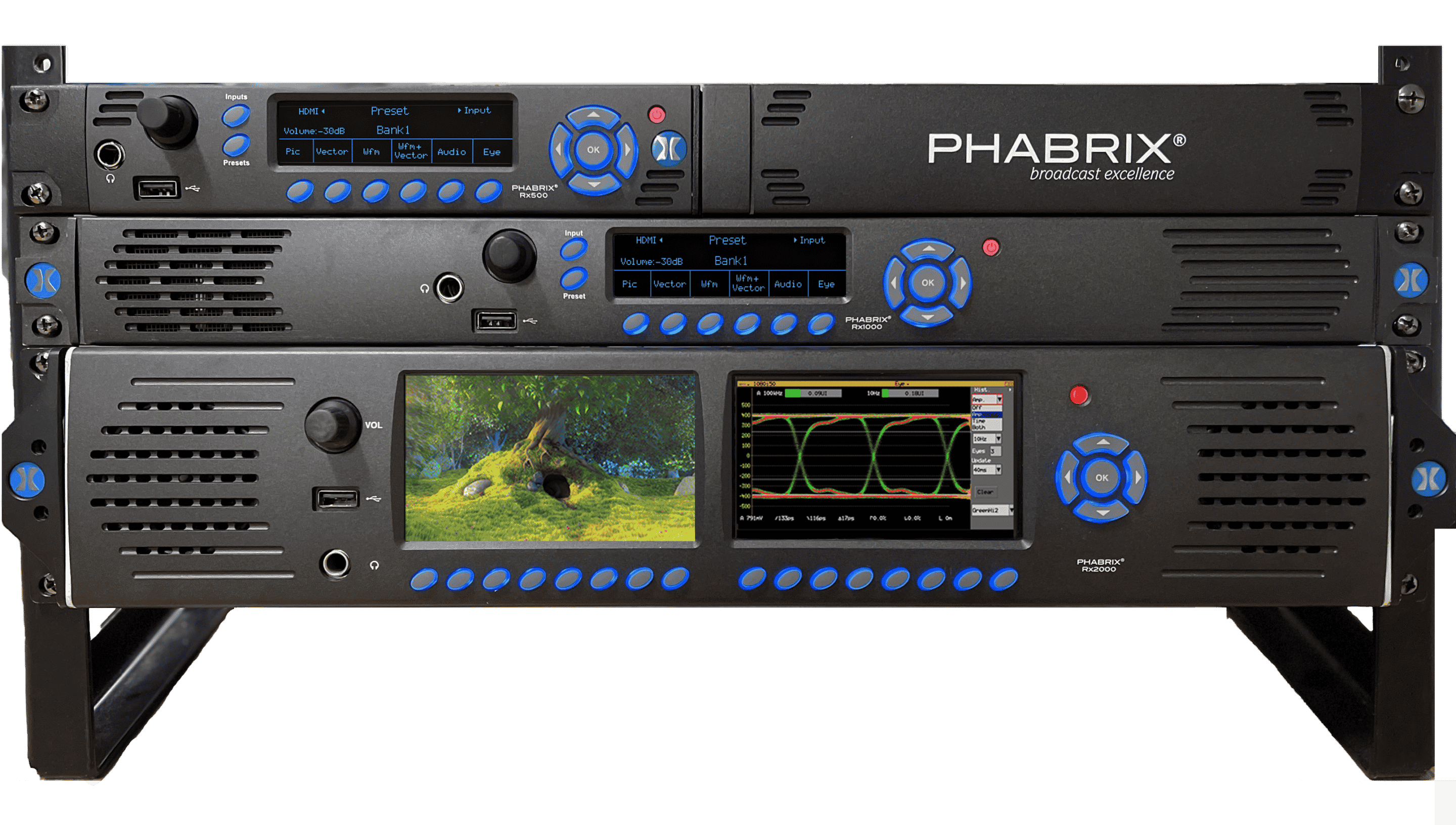 3x the choice
Based on the award-winning Sx portable test & measurement range, the rackmounted Rx series of rasterizers delivers advanced 2K/3G/HD/SD signal
generation, analysis and monitoring for faster compliance testing and fault diagnosis of both video and audio signals.
Up to 16 Simultaneous Instruments
Monitoring workflows are optimized with ultra-flexible, user-defined instrument display layouts. Up to 16 instruments can be presented simultaneously, at sizes ranging from full screen down to 1/16 screen. In multi-channel environments, channel identification is simplified with a dedicated window color per channel.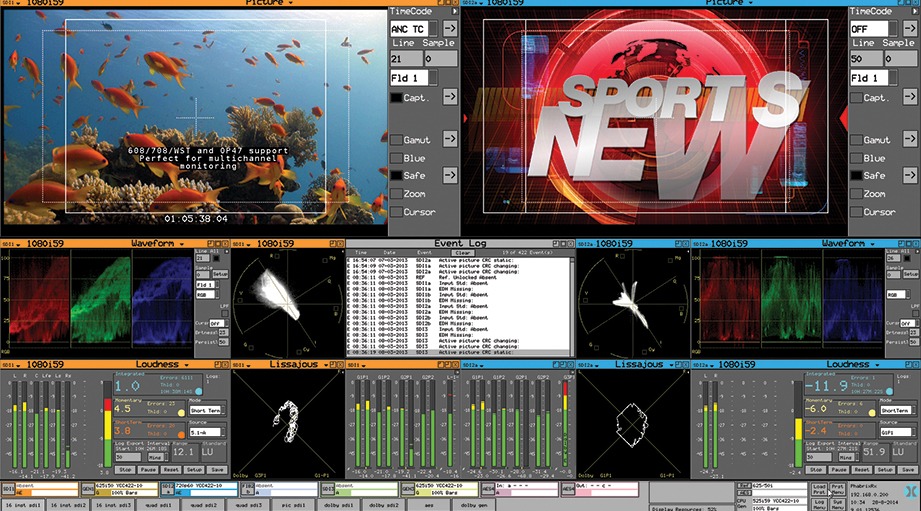 UP TO 99 CONFIGURABLE PRESETS
Monitoring configurations can be built to suit individual operators and key applications, with rapid recall of layout presets for fast turnaround of screen layouts eg. Video or Audio focus. Up to 99 presets are available to suit even the largest facility.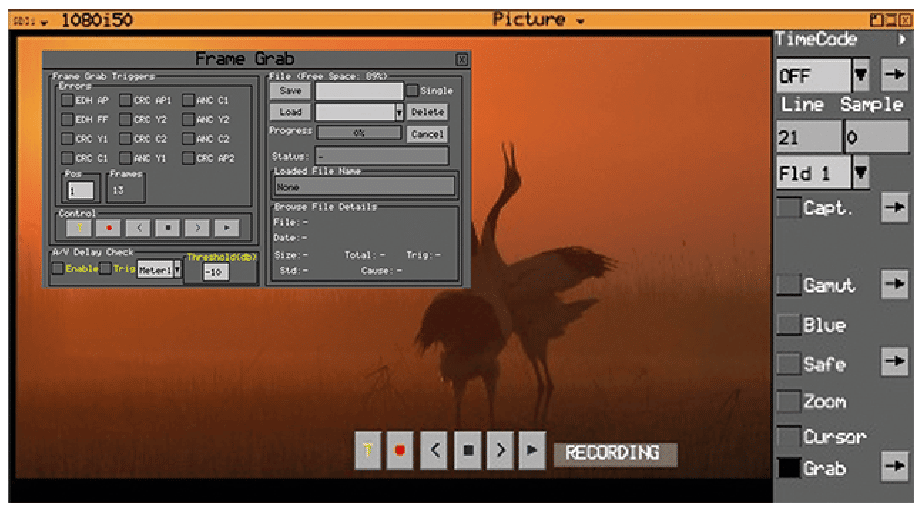 VIDEO CAPTURE & REMOTE ACCESS
To speed fault finding, the Rx Series offers video and audio capture to help diagnose problems. The capture can be triggered automatically when faults are identified by the analyzer, according to user-defined criteria. Monitor and analyze video via a web browser from any location.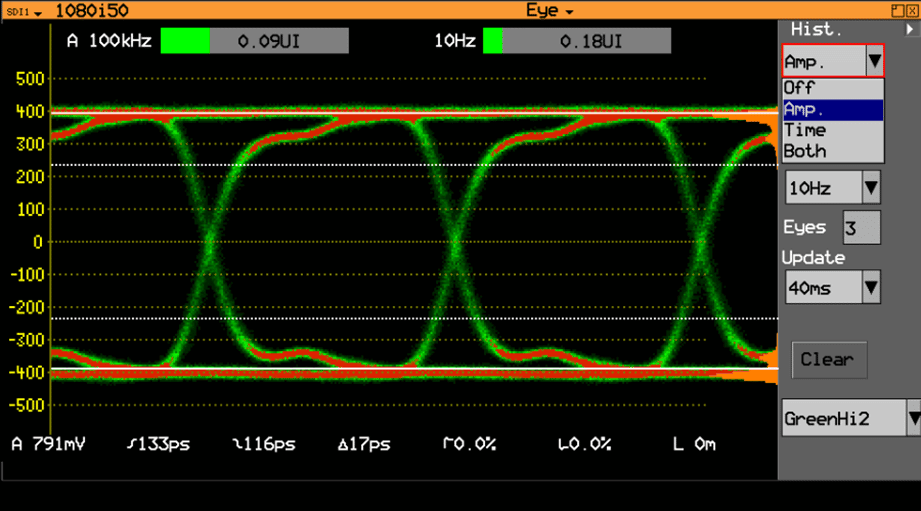 FOUR CHANNEL EYE & JITTER ANALYSIS
Advanced diagnostic tools include up to four simultaneous Real-Time Eye™ and Jitter physical layer analysis instruments plus closed caption, loudness and Dolby® monitoring. This makes the Rx Series ideal for OB trucks, broadcast facilities and video technology manufacturers.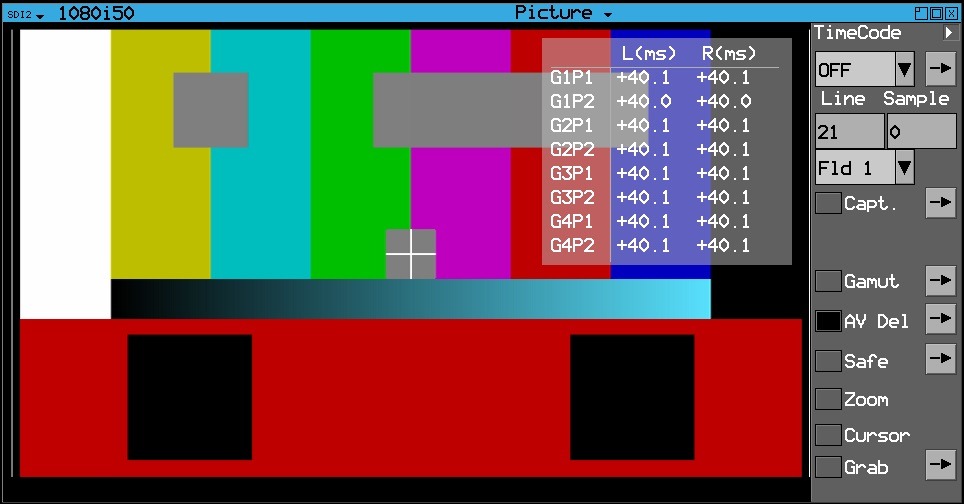 AV DELAY GENERATION AND ANALYSIS

AV Delay measures the audio-video delay through a broadcast workflow. Features include; a realtime update of the differential delay between the video and up to 8 audio channel pairs, plus support for EBU Tech 3305 and LAWO V_line AV Sync test patterns.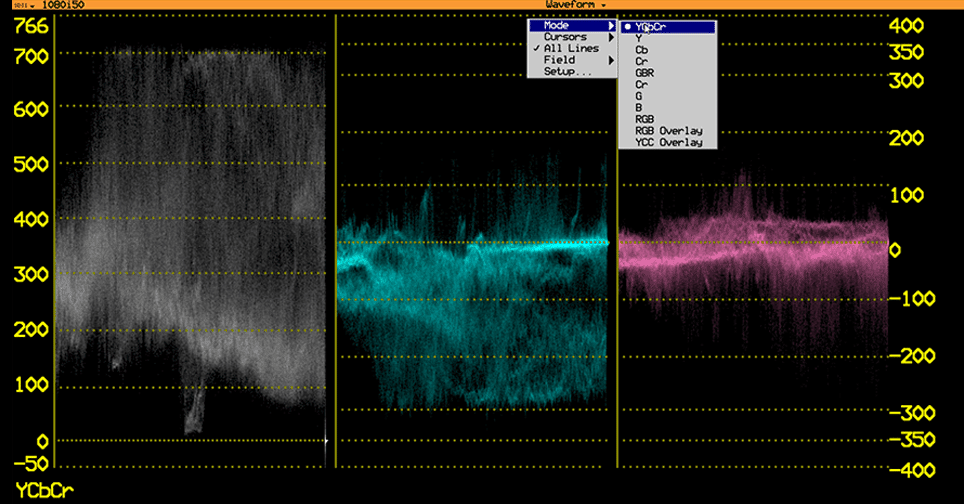 With simultaneous signal generation and analysis, the Rx toolset includes a multi-format waveform, vectorscope and video display, plus an ANC toolset offers ANC, Misc, Video and Board status. Data view and VANC/ANC inspector are available as optional toolsets.
In Action:
Cingularity selects PHABRIX Rx for power and flexibility on sports broadcasts
PHABRIX, a worldwide leader in test and measurement solutions, has supplied three Sx handheld 3G/HD/SD video/audio monitoring instruments and an Rx 2000 rasterizer to Cingularity, the media network provider, for monitoring on location at two upcoming sporting events. 
Eye & Jitter Toolset
Optional Toolset
Generator Toolset
Optional Toolset
Get a live demo of our products
See our products in action and find out how they can work for your organisation
Let's get your product demo booked...
Let us know the products you're interested in and what day would work best for you and we'll be in touch to set up a demo with one of our experts at a time that suits you.
Description
Rx
500
Rx 1000
Rx 2000
SD-SDI, HD-SDI as standard
●
●
●
Optional 3G-SDI (license)
O
O
O
Dual 16:9, 24 bit, 4.3" TFT, 480 x 272 pixels
N/A
N/A
●
OLED display
●
●
N/A
Front panel backlit navigation keypad
●
●
●
Front panel volume/gain control
●
●
●
Front panel headphone connector 6.3mm (1/4 inch) Stereo jack
●
●
●
Front panel USB 2.0 host port type A socket + 2 rear panel USB 2.0 ports
●
●
●
Internal loudspeaker
Beeper
Beeper
2x7W wide range
I/O Module slots (each supporting a range of audio/video modules)
2
4
4
Internal Dual Dolby® decoder module slot (option)
1
1
1
HDMI instrument output, 1920 x 1080, 4:4:4 RGB, Type A
●
●
●
SDI instrument output, 1920 x 1080, 4:2:2 YUV, BNC 75 Ohm
●
●
●
Basic SDI generator included as standard (replaces instrument output)
●
●
●
8 channel 48kHz PCM audio on HDMI and SDI Instrument outputs
●
●
●
Reference/VITC input, passive loop through, BNC 75 Ohm compensated
●
●
●
AES input AES 3-ID, SMPTE 276M-1995, 75 Ohm BNC
●
●
●
LTC input (via 26 pin high density 'D' Type socket)
●
●
●
Product
Rx
500
Rx
1000
Rx
2000
8x GPI I/O (via 26 pin high density 'D' Type socket)
●
●
●
Stereo analog audio output, (via 26 pin high density 'D' Type socket)
●
●
●
Calibrated stereo balanced analog audio output (option module)
●
●
●
Ethernet remote control via browser, RJ45 connector, 10/100Base-T
●
●
●
IP sockets based remote control as standard
●
●
●
FPGA firmware/software upgrade via Ethernet/USB
●
●
●
Viewing angle tilt mechanism
N/A
N/A
●
Desktop mounting kit
●
●
N/A
19" Rack-mount kit
1U (opt)
1U (stnd)
2U (stnd)
10.5"/9.5" Rack-mount
O
N/A
N/A
Whisper quiet temp controlled fan
1 x 40mm internal
2 x 40mm external
1 x 60mm external
Power consumption (variable on modules inserted)
24W typical 40W max
24W typical 70W max
27W typical 80W max
4 Pin XLR power connector, 12V nominal (9V-18V)
●
●
●
AC Power adaptor (incl), 90-264VAC, 120W
●
●
●
Dimensions (w x h x d) excl ears & projections
210x44x 170mm
440x44x 170mm
440x88x 150mm
Weight (chassis with CPU module and 1x AG option module fitted)
1.3kg
2.0kg
2.3kg
1 year manufacturers warranty
●
●
●
Choice of starter configurations
(All include Closed Captions, Loudness Monitoring and Audio Meters)
PHRX2000A
Rx 2000 (2RU) with 1 x channel Analyzer module
PHRX2000AE
Rx 2000 (2RU) with 1 x channel Analyzer module plus Eye/Jitter analysis
PHRX2000AG
Rx 2000 (2RU) with 1 x channel Analyzer/ Generator module

PHRX2000AGE
Rx 2000 (2RU) with 1 x channel Analyzer/ Generator module plus Eye/Jitter analysis
PHRX1000A
Rx 1000 (1RU) with 1 x channel analyzer module
PHRX1000AE
Rx 1000 (1RU) with 1 x channel Analyzer module plus Eye/Jitter analysis
PHRX1000AG
Rx 1000 (1RU) with 1 x channel Analyzer/ Generator module
PHRX1000AGE
Rx 1000 (1RU) with 1 x channel Analyzer/ Generator module plus Eye/Jitter analysis
PHRX500A
Rx 500 (1/2RU) with 1 x channel Analyzer module
PHRX500AE
Rx 500 (1/2 1RU) with 1 x channel Analyzer module plus Eye/Jitter analysis
PHRX500AG
Rx 500 (1/2 1RU) with 1 x channel Analyzer/ Generator module
PHRX500AGE
Rx 500 (1/2 1RU) with 1 x channel Analyzer/ Generator module plus Eye/Jitter analysis
Channel #2 / AES expansion module
(Add up to 3 per Rx 2000 and Rx 1000, and add 1 per Rx 500)
PHRXM-A
1 x Analyzer expansion module
PHRXM-AE
1 x Analyzer expansion module plus Eye/Jitter analysis
(Only available on Rx 2000 & Rx 1000)
PHRXM-AG
1x Analyzer/Generator expansion module
PHRXM-AGE
1 x Analyzer/Generator expansion module plus Eye/Jitter analysis
(Only available on Rx 2000 & Rx 1000)
PHRXM-4AES
4 x AES audio analyzer/generator with AES routing expansion module
Options
PHRXO-3G
3G plus advanced formats
(422/444, YUV/RGB, 10/12-bit) + 2K-SDI
PHRXM-DOLBY
Dual Dolby® decode, bit stream metadata analyzer and framing indication for Dolby DE, DD and D+ (Includes PHRXO-BDA license)
PHRXO-BDA
Dolby® Bitstream analyzer
(1 license supports up to 4 input modules)
PHRXO-BDG
Dolby® Bitstream generator
(Requires generator or AES module)
PHRXO-DATA
SDI data view/ANC packet analyzer
PHRXO-AVD
AV Delay Analysis
Accessories
PHRXM-ANA
Analog audio line level output converter
PHSFP-RT30-1310
SFP optical transceiver 3G/HD/SD-SDI – Tx 1310nm, Rx 1260-1620nm
PHSFP-2R30
SFP optical dual receiver 3G/HD/SD-SDI – Rx 1260nm-1620nm
PHSFP-RT30-1550
SFP optical transceiver 3G/HD/SD-SDI – 50km, Tx 1550nm, Rx 1260-1620nm
PHRXK1
19" rack mount fitting kit for 1 x Rx 500
PHRXK2
19" rack mount fitting kit for 2 x Rx 500
PHRXK3
9.5″ rack mount fitting kit for 1x Rx500 unit
PHRXK5
Desktop Kit with adjustable feet and handles
Warranty
PHRX-3YEAR
3 Year Warranty*
PHRX-5YEAR
5 Year Warranty*
*One year warranty included as standard
Please fill out the form below to
request either a Quote or Product Demo