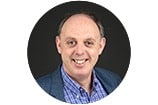 PHABRIX History – Phillip Adams, Founder
Starting a business from scratch is always a challenge, particularly in a business environment as demanding of technological advances as the                                          broadcast industry.
I'd lived and breathed technology for so long from my early days at Granada Television, Michael Cox Electronics, Alpha Image and Oxtel that starting a new company operating in the broadcast industry seemed an exciting prospect. In March 2005 PHABRIX was born. As ideas formed, and we grew as a company and talked to more engineers, it soon became clear that they needed a testing device that wasn't bench bound – or expensive,  and it had to have a toolset to make it useful and appealing.
Just like a Swiss army knife, a product conceived as a simple mix of technologies developed into three test instruments in one; an SDI signal generator, analyzer and monitor with an amazing array of tools. The Sx rapidly developed as a handheld video and audio testing device capable of supporting 3G-SDI, HD-SDI, SD-SDI video plus AES – a world's first for such a product. As engineers at PHABRIX, we designed the kind of product we'd like to use ourselves.
Following the Sx, in 2011, our Rx rasterizer range was launched, elevating us into the mainstream of test and measurement solutions available at the time. The Rx delivered to customers a modular system for inclusion of differing toolsets with single, dual or four monitor display options. From a price point and feature-set, the Rx series of products were, and still are unbeatable.
In 2016, we launched the Qx, an industry-leading rasterizer for 4K/UHD, HDR/WCG and SDI/IP test and measurement workflows, offering our loyal 3G-SDI customers an important stepping stone into the wide plethora of standards available today. The rapid development of the Qx Series over the past few years now sees it offer advanced toolsets for hybrid IP/SDI support using 4K/UHD (12G/6G/3G-SDI) and HD-SDI plus SMPTE 2022-6 and 2110 plus 2022-7 analysis and monitoring, along with comprehensive HDR/WCG analysis and 12G-SDI physical layer analysis toolset.
All three product ranges are in continued development cycles and going from strength to strength. All three product ranges can be found in almost every major broadcaster and video manufacturing and product development team worldwide.
Our recent acquisition by Leader Electronics is fantastic news for both the PHABRIX team and wider industry. Both companies have much to gain from each other; both putting design and engineering expertise at the heart of development. With our combined talent and complementary product lines, together with a greater geographical reach, it's going to be a very exciting future for staff, customers and our global distribution partners.